Saturday, January 20, 2007 | 11:53 AM
Technorati
davier.
Wednesday, May 04, 2005 | 9:53 AM
fun is a 3 letter word.
Lately I have been realizing what fun actually is. Fun is going out with friends in a car exploring nooks and crannies of Singapore and discovering new foods late at night and then getting drunk after that. Fun is going to the beach and having an intelligent conversation with a friend. Fun is eating shitloads of sushi for 3 hours and then going to a LAN gaming centre to kill your army friends. Fun is block leave.
That is until one by one we received text messages from our respective sergeants telling us we have been activated to go back to camp because we were involved in our former president's funeral. That prompted us to switch our computers off simultaneously and without talking to each other, headed back home. Back online, I cancelled all my appointments with my friends for the rest of the week. Interestingly they did not seem to care much and were quite ready to cancel.
Then this morning, whilst brushing my teeth I received yet another text message telling me that I did not have to go back at all. The one word that immediately shot to my head was a certain Hokkien expletive describing foul smelling genitalia. Thus, here I am online trying to salvage the appointments I have called off. People seem to have no problem at all replacing my appointment slot in their schedules with someone else's in such short notice. That expletive is probably going to get trapped in my head for the rest of my block leave.
I took the aptitude test for the Architecture/Industrial Design course at the National University of Singapore last Saturday. It felt really nice doing the test because I actually thought I was a student at NUS taking an actual NUS test, as opposed to a lowly paid soldier fighting for a peaceful country. There were girls there, nice, decent looking girls who did not look like the ones in the army who can pee standing up and if you liked them you were gay. That got me really excited about going back to school next year. Really excited.
One more year and I'll be through. ENDURE!!!!

davier.
Sunday, May 01, 2005 | 7:43 PM
this blog is not dead.
Rest assured folks, my blog is not dead yet. Many people have speculated that I have fallen terribly ill, attempted suicide or even passed away. This long absence is primarily attributed to the recent surge in training that I have been receiving while serving my nation in return for more physical training. While running the standard obstacle course, my platoon mate introduced me to an online game called Maple Story and I have been neglecting my blog to level up my character. My character, incidentally called 'reiv' is now a paltry level 18 and I aim to work it up to level 30 before I get tired of the game and call it quits, much like what happened to previous online games I played like Guild Wars, Anarchy Online, Rose Online and Conquer Online just to name a few.
Now I'm enjoying yet another block leave that our wonderful boss showered upon us and since I now have proof that people do actually read my blog, feel free to tag on the tag board to ask me out. Shameless and thick skinned I certainly am not, desperate I may very well be.
davier.
Saturday, April 09, 2005 | 10:28 PM
weird old man
I was having lunch at the foodcourt with hoyin at raffles city yesterday when this old man sat down beside us with 2 cups of coffee. Then he started having an animated conversation with an invisible friend. He drank one cup of coffee and left the other cup alone. Its nice to know that when you're older, you make new friends from beyond our world.
davier.
Friday, April 08, 2005 | 12:55 AM
whats wrong with its eye?
davier.
Sunday, April 03, 2005 | 12:01 AM
lizard on wall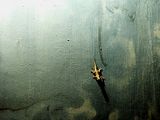 or wall on lizard.
davier.
Wednesday, March 30, 2005 | 5:08 PM
broken but happy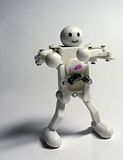 davier.
back.
Here I am again, after a long absence from the blogging scene. Numerous things have happened since the last time I blogged and I shall summarize them up in one sentence: I went ahead to jump the hurdles, didn't knock down any of them, but injured my foot in the process, went for my company's retreat at change, sewed on my rank and accolades, no. 4 looks pretty good now, went to my parent's church for the first time on Easter Sunday, bought a new camera, a Panasonic DMC-FZ5, took like a few hundred photos, some of which I will post later if I'm in the mood, and last of all, I am at home again on a weekday thanks to block leave.

davier.